Jordan McCullum
author, I, Spy
Give us a bit of your background (where are you from, your family, traveling adventures)
I'm originally from Durham, North Carolina. And I love it. I'm the oldest of four daughters, and now I have a son and three daughters of my own! I'd love to see the world, but the whole packing/living out of a suitcase/actual travel part is kinda stressful (especially with four small children!). I was fortunate enough to honeymoon in New Zealand (to meet my in-laws for the first time—they were missionaries there at the time), and to visit beautiful Ottawa, which inspired the setting for my novel!
Say your publisher has offered to fly you anywhere in the world to do research on an upcoming book, where would you most likely want to go?
Just for a book? Toughie. I'd really love to go back to Ottawa for my books, but if it's for research, I'd better go somewhere I haven't been yet that will be featured in an upcoming book—Rostov on Don, Russia.
Why do you choose to write clean/sweet romance? Do you write steamy romance as well?
I write clean/sweet romance because that's what I read. There isn't enough of it out there, but we need choices!
What other things do you have planned with your writing for the rest of the year 2013?
I have a prequel novella to I, Spy out now: Mr. Nice Spy. I'm also finishing up the sequel to I, Spy and bringing it to my critique group. I'm planning to release that book and another prequel novella in the fall!
How much of your personality and life experiences are in your writing?
A lot of my personality—all my narrators tend to be somewhat sarcastic, though often in different ways. Not so much of my life experiences. That aren't classified, anyway ;) .
Please share about your book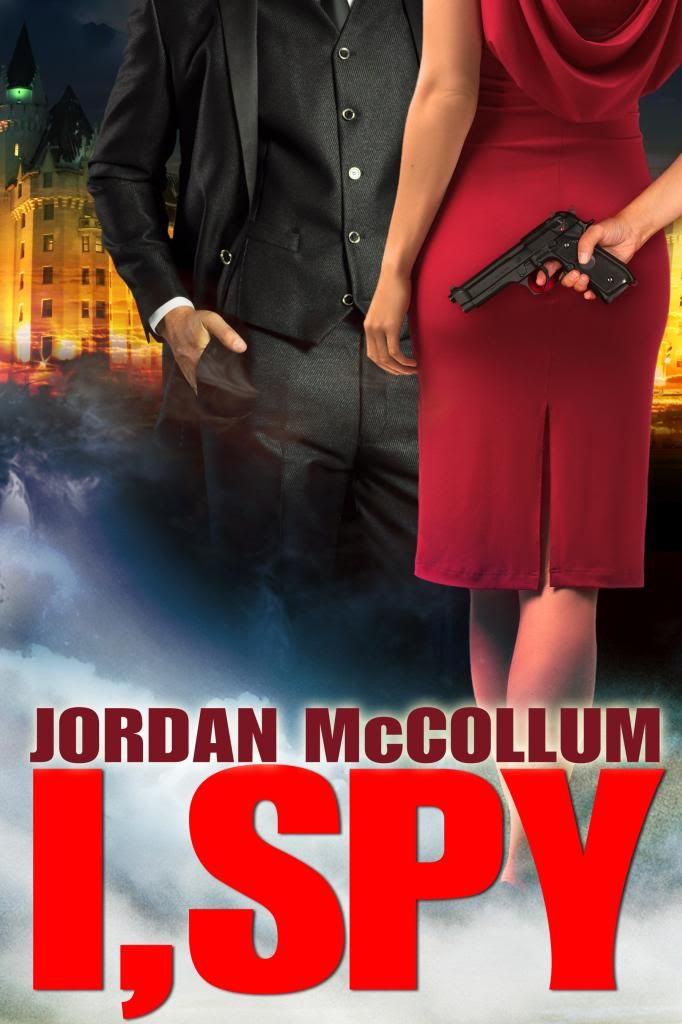 Canada is probably the last place you'd expect to find an American spy. But in my romantic suspense novel I, Spy, even idyllic Ottawa has its deadly secrets--and so does CIA operative Talia Reynolds. She can climb through ventilation shafts, blend in at the occasional diplomatic function, even scale buildings (small ones). But there's one thing she can't do: tell her aerospace engineer boyfriend Danny about her Top Secret occupation.
It worked for a year, keeping Danny in the dark, keeping him away from danger, keeping her secrets. And then Talia finally catches a hot case: Fyodor Timofeyev. Russian. Aerospace executive. Possible spy?
She can make this work, too--until Danny needs her at the same time her country does. And when Fyodor targets Danny? Suddenly her schedule isn't the only thing suffering. Now to save her secrets and her country, Talia must sacrifice the man she loves.
Read an excerpt from the book:
http://jordanmccollum.com/books/excerpt-i-spy/
If you could sum your main character into five words, what would they be?
Funny, loyal, talented, paranoid—SPY
What are your hero and heroine of the story like?
Talia is a fun character to write. She has a great voice. Danny is an all around good guy—who has no clue who he's really been dating for the last year.
One funny moment recently happened when my husband was reading my book. He asked out of the blue, "How much of Danny is based on me?"
I didn't know what to say! Until he mentioned the one thing about Danny that I totally, directly, purposefully borrowed from my husband: when we were dating, he got really down if we had to cancel our plans at the last minute. Of course, Danny has another reason why that's so disappointing for him . . .
I am also happy to offer your readers a free e-copy of the prequel novella,
Mr. Nice Spy
, through my site store at
http://jordanmccollum.com/store/
with the coupon code CRR872